Manna from heaven, that's what this is.
On Tuesday evening, I got an email from my boss, Brian:
Simon, I have a Park Bike stand I am not using anymore. If you could use this you can have it. Trying to slowly declutter house!
I tried to play it cool, but I did include this GIF in my affirmative reply.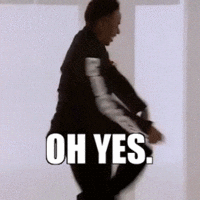 I have wanted one of these for years, especially after doing the bike maintenance courses at Bow Cycle. Having a work stand gets the bike where you need it and at the angle you need it at.
I didn't know what model it was, but I went out to Cochrane with a bottle of rye as an exchange. I picked it up, and I think I should have gotten a bigger bottle. It's a top-of-the-line Park Tool stand. Built like a tank. It will last me forever.
I'm a lucky guy.